Podcast: Play in new window | Download | Embed
Audio clip: Adobe Flash Player (version 9 or above) is required to play this audio clip. Download the latest version here. You also need to have JavaScript enabled in your browser.
On this episode we have an interview with BOLT Locks.  BOLT Locks are made to accept your key from your vehicle and will program itself to match all the other locks on your vehicle with a single turn of the key.  That means that you can secure your spare tire, gas cans, trailer hitch, even your trailer with the same key that you use to open your doors and start the engine.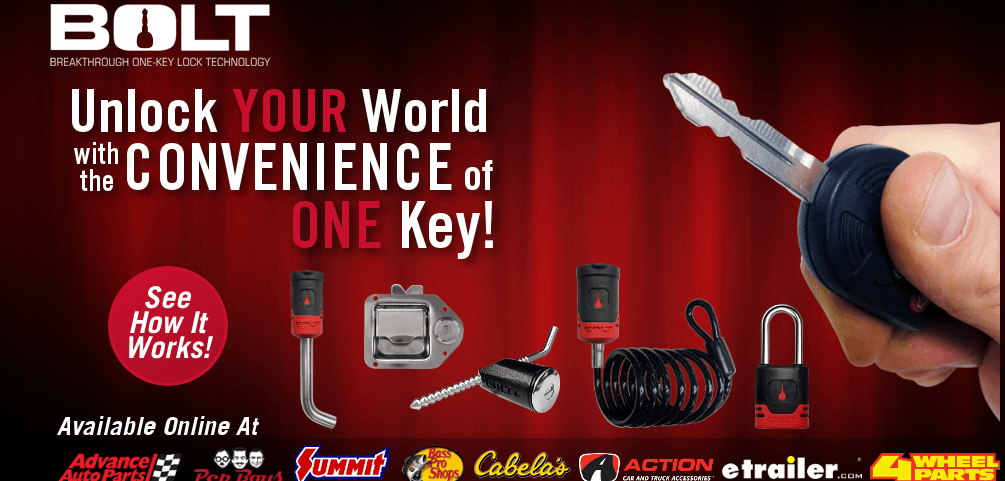 In the Garage
Dan is on the road for work, which you may have noticed thanks to the, reduced audio quality. While traveling to Australia Dan has been able to get up close and personal with some foreign military vehicles and all the unobtainable (nearly) vehicles for North America such as Toyota HiLux, Nissan Patrol, Land Rover Defenders, Suzuki Jimny, global Ford Ranger, and many more.  Before heading out for the Australian trip though, Dan did a bunch of camping and fishing all over Alaska with some family from Chicago.  This is a non-camping family that spent 6 consecutive nights camping…and loved it!
Rich
Craig
We are starting a giveaway of some products from BOLT Locks.  There are a few necessary steps required to win.
Like The 4×4 Podcast at http://Facebook.com/the4x4podcast and BOLT Locks at http://Facebook.com/boltlock
Post on your personal Facebook page why you need The 4×4 Podcast a BOLT Lock using the phrase, "I need @The4x4Podcast to hook me up with a @BOLTLock for my  (fill in your vehicle) because…" You'll want to set that post to public and using #4x4podcast in your post just to make sure we see it.
We will select one lucky winner and you'll receive your choice of a BOLT Lock cable lock or a BOLT Lock padlock.
Offroad APPtitude:   Skipped for this episode.
Offroading 101: Skipped for this episode.
Outdoor Edibles:  Yup, skipped that too
Gear Review:  Come on, really?  No gear reviews either