Podcast: Play in new window | Download | Embed
Audio clip: Adobe Flash Player (version 9 or above) is required to play this audio clip. Download the latest version here. You also need to have JavaScript enabled in your browser.

The 2013 Vermont Overland Trophy is now in the record books.  Just to reiterate what the Vermont Overland Trophy is, here is the description from Peter Vollers, the event organizer:
VOT participants will challenge both themselves and their overlanding rigs to four days of punishing vehicle-dependant overlanding designed to challenge the participants' vehicle capabilities, navigational skills, driving prowess, camping efficiency and physical stamina all with one goal in mind:  to simply finish.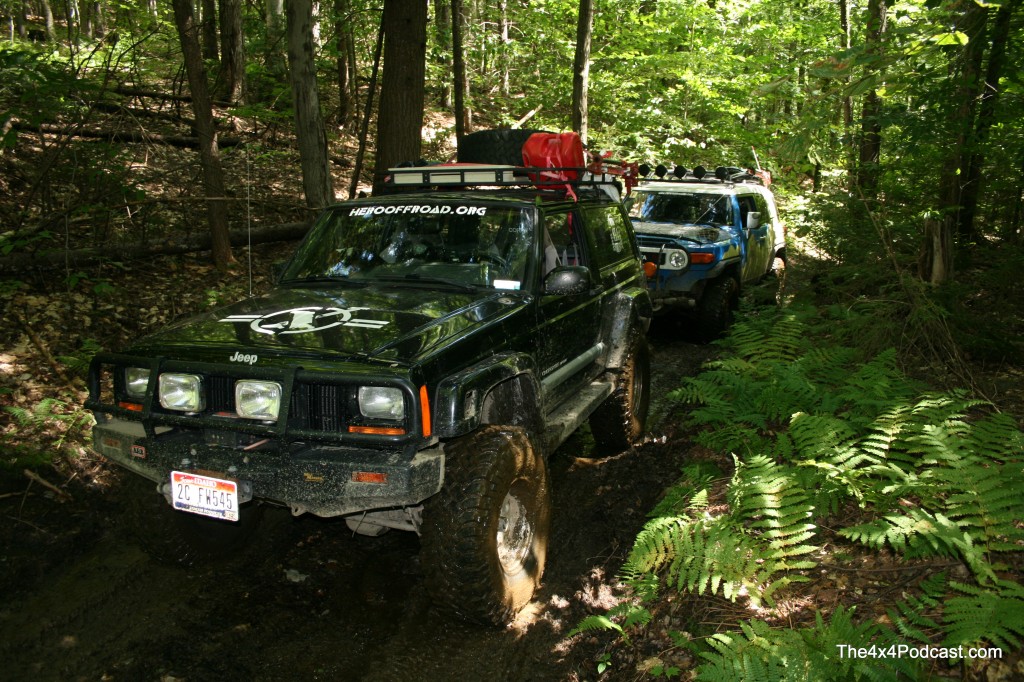 That description is totally accurate as all the participants were challenged and stretched to their limits and some actually beyond their limits.  Only 60% of the entrants were able to finish every day's routes under their own power and provide receipts showing that they were able to purchase at least $10 in local Vermont produced goods/food.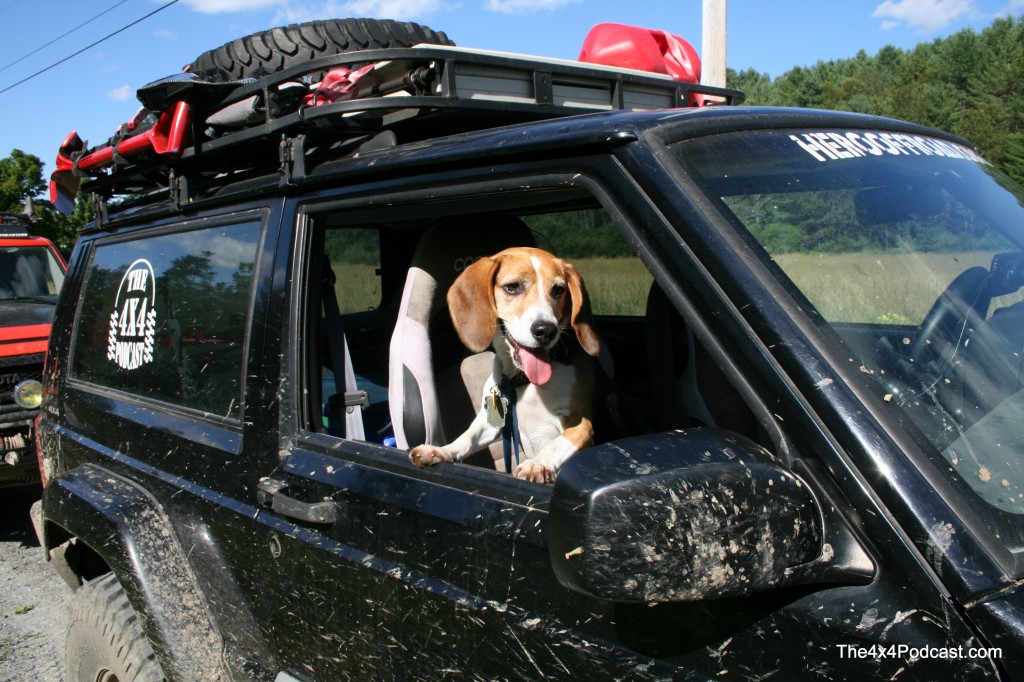 After work on Friday, I loaded up the cooler and Humphrey the Beagle/co-driver and we hit the road for the 5+ hour drive to day 2 remote camp.  I reached camp well after midnight, when all challengers should have been in camp and bedded down for the day 3 activities.  As I sloshed through some very deep mud and gallons and gallons of water rushing down the "road" just to get into camp I switched my CB onto the staff's radio channel.  The whole scenario felt more like a forward passage of lines in a combat zone than it felt like attending an overlanding event in the great state of Vermont!  As I pulled close enough to the entrance of camp for my 130 watt IPF offroad lights to reveal some other vehicles, what I found was a flurry of activity and the staff's radio channel full of chatter about recovering a rolled Rover and a Pinzgauer that was missing in action.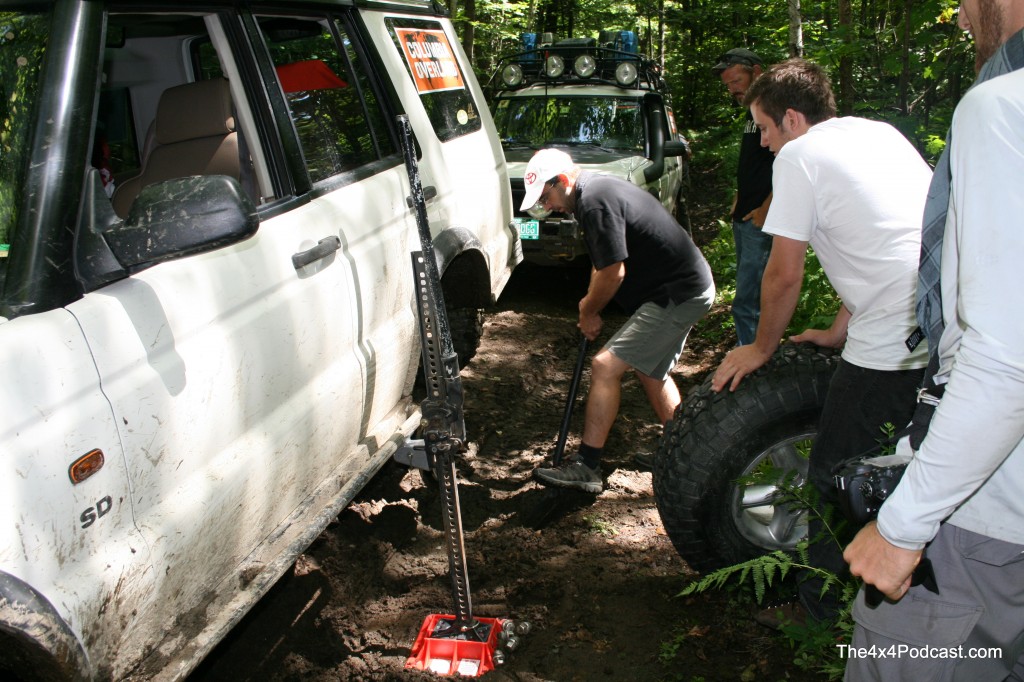 It wasn't till morning that I saw any faces, but that night the friendly voice of Brady Horrace from Team Syncro informed me that going up to the top of the remote camp would not be a good idea.  Its one thing I've learned, good advice sounds even better when its dark, wet and full of mud.  I took Brady's advice and through my tent down on the best possible location I could find; the criteria for this decision was: a) not in the middle of the trail and b) not in eight inches of soupy mud.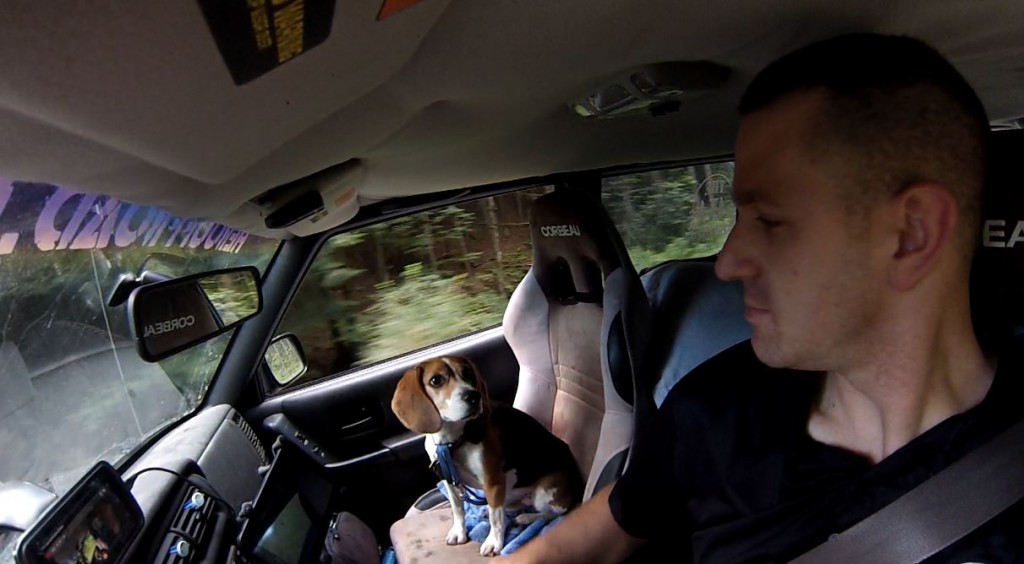 As the morning of VOT day 3 broke, I crawled out of my sleeping back to see the two Syncro vans nearby and just around the corner was a Unimog.  I was looking forward to chatting with these teams and determined that the best way to attract attention would be to cook some bacon and make some coffee.  I supposed a whimpering beagle helped but in either case, it worked.  I whipped up some fried eggs, onions and peppers to serve on tortillas with some fresh raspberries using my chuck box sitting on the tailgate of my storage box.  This setup is now a proven overland setup but I have some small things to still sort out.  The first thing is a light source mounted to the inside of the lift gate so that I can see without needing a headlamp or lantern.  The next thing will be some kind of cover so I don't have food-steam-gunk collecting on the inside of the lift gate glass.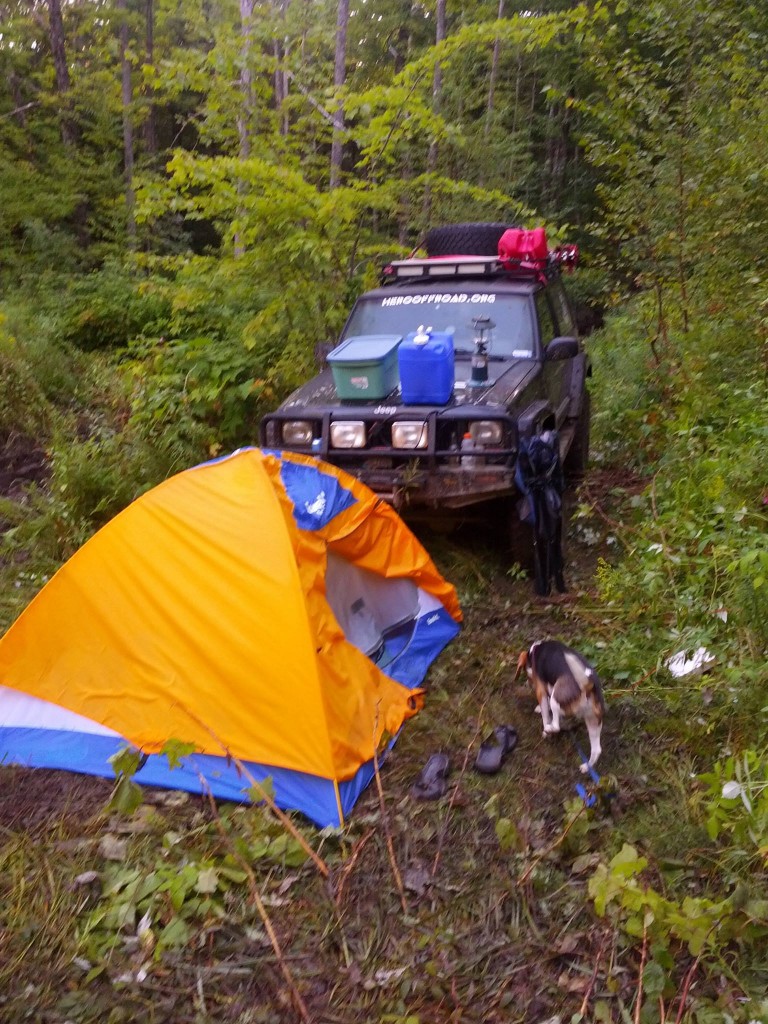 As I was cleaning up camp and getting ready for the day, I watched as a few rig lumbered by down the sloppy muddy trail.  One particular Land Rover Discovery II really caught my eye and I noticed that the passenger had a wild beard of red hair that could only be Bryon Dorr from Exploring Elements.  I'd been looking forward to meeting Bryon for a long time having followed his adventures on his blog as well as having him on the show a few times.  Bryon is a fantastic photographer and I saw him many times wielding his camera during the event.  Be sure to check out his full write up at MOTUS World.  And for all things adventure and action sports, subscribe to his blog at Exploring Elements, his Facebook page, and Instagram feed.
After finishing up the last of the coffee and my camping neighbors polishing off the last of the bacon, I headed down into town where fellow overlanders were buying their local food faire at the town store.  Others were using lake for a bath facility and others were  who was navigating for Team Columbia Overland with Team FJ Cruiser in tow.  I jumped into their convoy and switched my CB to their channel only to find out that I had a bad ground in my antenna resulting in crappy reception even with the squelch turned all the way down.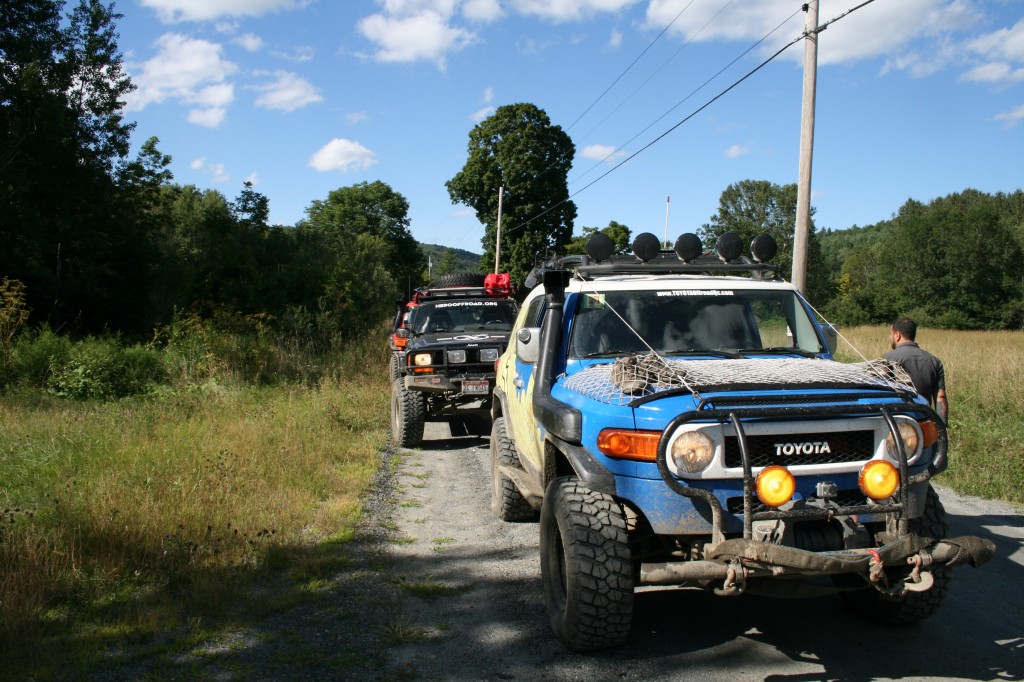 The route took our convoy over some beautiful country roads and class 4 roads.  As Peter Vollers stated in the interview on episode 39, Vermont has a unique law where roads never go away.  Many of these class 4 roads are really not much more than a goad trail which required the challengers to crawl over rocks, through ditches, between tight trees and on tippy pucker-inducing side-hills.  We cruised through the trails with relative easy which made it easy to keep up the speed, most of the time and we occasionally crossed paths with other VOT teams.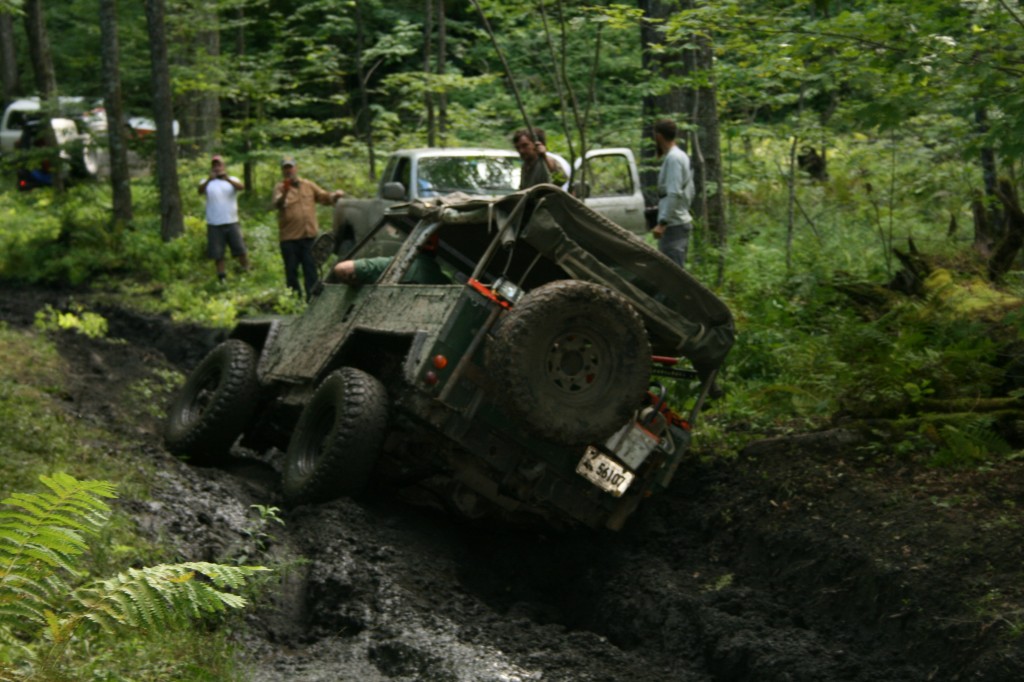 We stopped for lunch which included a locally sourced bacon cheeseburger and fries while we discussed the maps for the rest of the day's routes.  This burger stop was a popular place as seen by the parking lot full of Land Rovers, Land Cruisers, Jeeps and FJ Cruisers.  The little towns and communities that the Vermont Overland Trophy routes passed through were treated to a parade of unique and well-built rigs all day long.  And the businesses received a big shot of cash from the hungry challengers.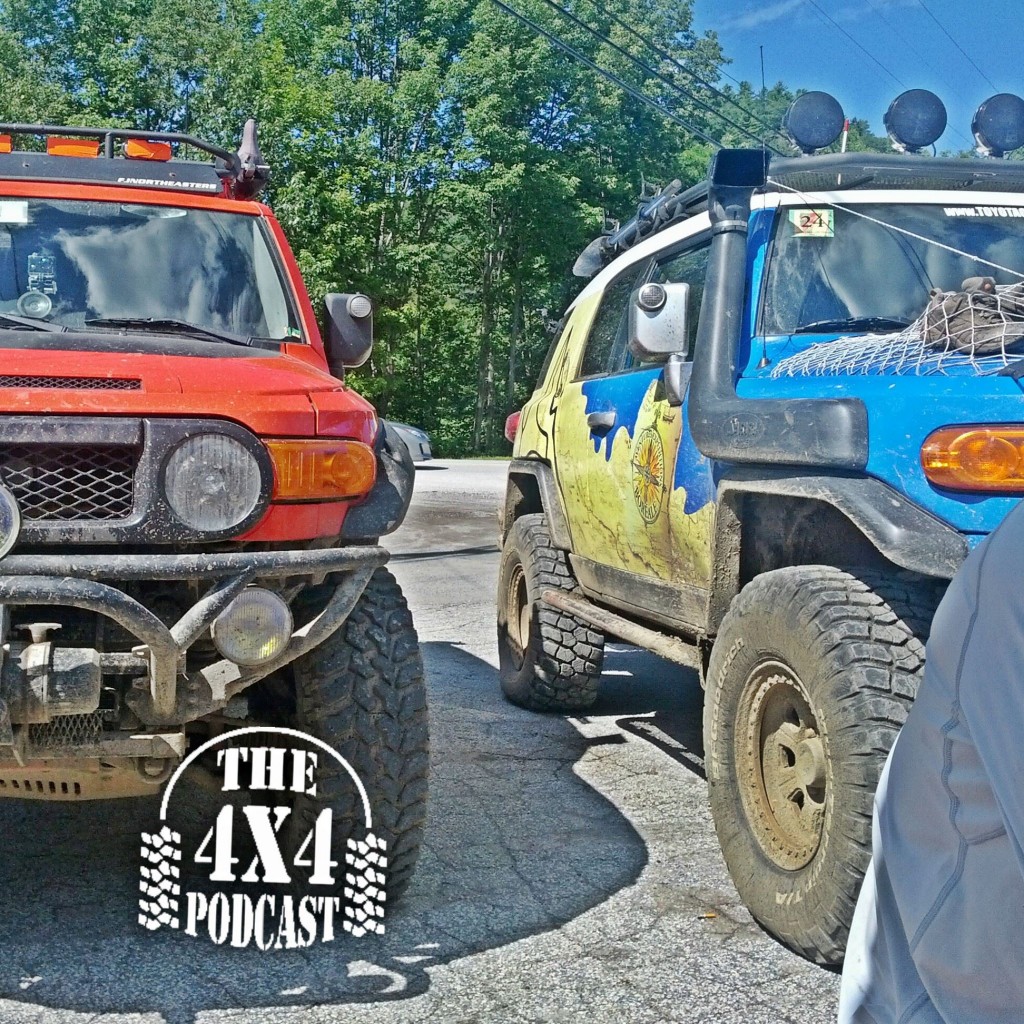 The afternoon route brought us to the challenge trail for the day.  When I got there, I found a Land Rover hammering the throttle while trying to make it through a deep rut full of slick heavy-suction mud.  The rut was so deep that a rig couldn't be laid on its side if you wanted to.  This trail-jam has stirred up a bit of contention on the Expedition Portal thread regarding the best method to avoid these jams for next year.  Recommendations range from limiting tire size to 33" to adding categories based on vehicle mods.
The way I see it, is that this event is a challenge, not a competition.  If someone wanted to make it more challenging they would limit themselves in the modifications that they make.  If you consider that the event is in the spirit of the Camel Trophy and are less focused on how the event doesn't follow the letter of the Camel Trophy law, then it all makes a lot more sense.
Some teams challenged themselves by pulling trailers.  Others choose to drive vehicles that are 25 years old or more and have difficult to find parts.  Others wished to limit their mechanical pain by driving a heavily modified 2013 Jeep Wrangler Rubicon.  It has been said that, "driving a Jeep in the VOT is like pushing the easy button."  That being said, even Team Virginia AEV experienced mechanical difficulty going into the day 4 challenge trail on the Vermont Overland compound.  No one was exempt from the challenges of the Vermont Overland Trophy.  As a matter of fact, I'd really like to see a complete list of the carnage as a result of the VOT.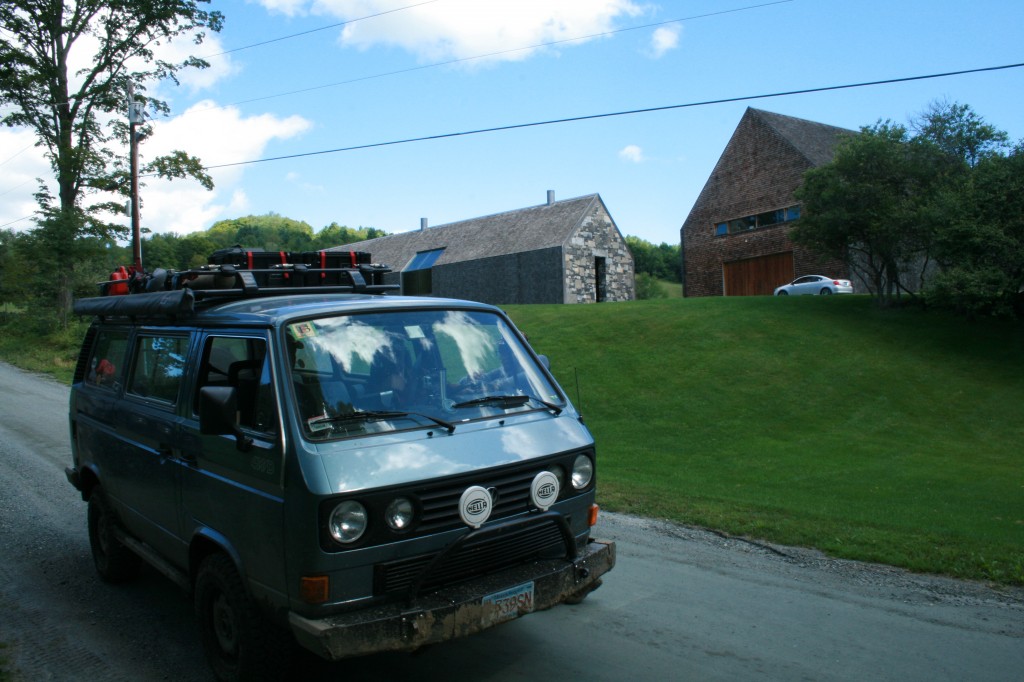 I spent day 2 of the Vermont Overland Trophy following around Team Syncro.  The VW Syncro van is a very unique and rare vehicle but is certainly a great overlanding platform.  It provides reasonable accommodations inside, could be optioned with a pop-up tent, fairly rugged and capable and has fairly good aftermarket support.  I had the pleasure of watching this pair of van crawl through the trails with style!  However, their smaller tires and minimal ground clearance had them bailing out of the challenge trails which did earn them an honorable mention.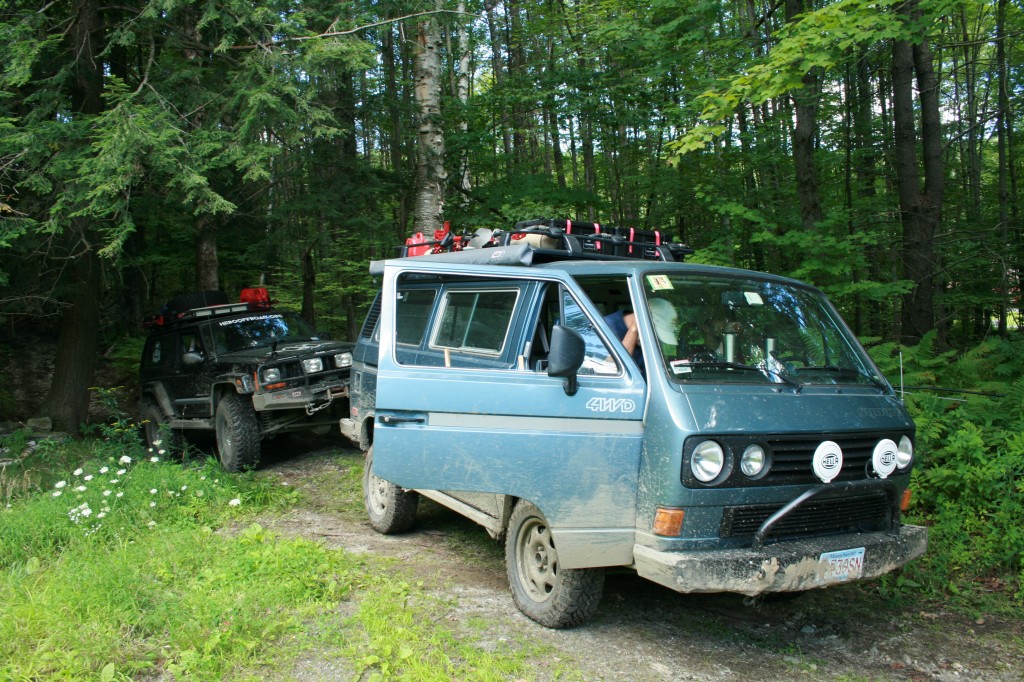 Below are the official results of the Vermont Overland Trophy.
From the event summary:
Team #2 Columbia Overland, both Land Rover Disco 2s, Andrew Alinovich and Zach Griswold
Team #3 Toltec Adventure Coffee, Range Rover LWB and D90, Niall Johnson and Mike Pettengill
Team #4 Northeast Overland, 2003 Jeep Wrangler and 2000 Jeep Cherokee, Matt Barrows and Jareb Dyer
Team #5 Twin Mountain Offroad Adventure, 1996 Discovery 1 and 1995 RR Classic LWB, Lester Gerber and John Bradshaw
Team #7 combined with # 25 Jeep Gypsies, 2013 Wrangler Unlimited, 2013 Rubicon, CJ8/Mercedes diesel, Rob Jazowski, Ron Hammond and Bob Gatautis
Team #8 Team Safford, 2004 Jeep TJ, 2006 Jeep LJ, Joe and Jim Safford
Team #12 Team Range Rover Classic, 1990 and 1995 RR Classics, Lazz McKenzie, Kerri-Rae Agin
Team #15 Team Cinnamon (yes, this team is named after a stripper), 2013 Jeep Rubicons, Mike Bertram, Jeffrey Hensch
Team #16 Rover-Yota, 2002 Land Rover Disco and 2004 Toyota 4Runner, Steve Ostrovitz and Matt Burzon
Team #17 VAEV, 2013 Rubicon, 2013 AEV JK350, Jason Grogg and William Quinn
Team #18 VEEZH-LAH, 2005 and 2008 Rubicons, Ed Smith and Ben Moore
Team #19 AVAM Adventures, 1976 Mercedes Unimog 416 and 2001 Land Rover Disco 2, Jame Salerno and Vaughn Micciche (with Amy "Wood Nymph" Alton)
Team #21 Anderson & Stauffer Furniture (a/k/a the Hanson Brothers), 1984 Defender 110 and 1986 D90, David and Tom Stauffer
Team # 22 Team Lucky8: Justin Monnin and Dave "Top Chef" Freeman
Team #24 FJ Cruiser: 2007 and 2008 Toyota FJ Cruisers, Alain Major and Richard LaRusso
Honorable mention: Team # 13, Team Syncro, 1987 VW Vanagon Syncro and 1987 VW Westfalia Syncro, Andrew Ewas and Brady Horrace
Team Spirit Award went to AVAM Adventures (incredible mutual nurturing, exemplary positive attitude), with Lucky8 (truly epic, tethered two-truck Ben-Hur haul of completely dead third truck up the hardest rock crawling trail of the whole event) and Team Safford (went out of their way all week to help others around them) as honorable mentions
Best Camping Setup Award: Lucky8 Offroad (Dave turned out the best camp chow I've ever had from an amazing kitchen setup, and tons of it to boot) with Northeast Overland getting honorable mention (Jareb hauled his simple, elegant and bomb-proof home-made adventure trailer through every last inch of the course)
Best Mustache Award: Steve Ostrovitz (just a perfect stache) with James Salerno a close second
As for mileage notes, I drove about 500 pavement miles, round trip to get to and from the Vermont Overland Trophy.  I also drove about 160 miles through dirt, mud and rocks.  That is by far the most miles of "continuous" unpaved roads that my Jeep has tackled in recent memory.  I say "continuous" because the as the occasional pavement mile as we passed through the towns and villages and when we crossed from the end of one class 4 road to the start of the next.
There has been some complaints about log jams and traffic at the trails at the challenge trails.  While I do enjoy covering more terrain and moving on to the next obstacle, this event was about more then conquering the trail.  It was also about building a team, building camaraderie between other teams and having a great time.  That time spent outside of the vehicle was a social time where we could chat with each other and heckle the drivers (in a friendly manner, of course).  It was the relationships with fellow challengers that made this such memorable event for me.
In keeping with my Army training, I'll offer a few sustains and improves as an After Action Review.
Improves:
Issue – The physical challenge was absent
Discussion – There was a physical challenge planned initially but it was later dropped as a risk mitigation effort.  Some teams spent 12 hours on the route just trying to complete the miles but other teams could have finished the route in as little as 7 hours.
Recommendation – Adding the physical challenges back into the schedule would stretch those more capable teams with something that would add a welcomed layer of difficulty.  Teams could certainly skip the challenge at the cost of some Team Spirit points missed.
Issue – Event Scheduling
Discussion – The Vermont Overland Trophy officially started on Thursday morning and ran through Sunday.  This schedule forced many teams to hit the road home shortly after they completed the day 4 challenge trail and they missed the closing dinner and awards presentation.  I attended as a vendor but I didn't find enough time at base camp spend some meaningful time as a vendor.  I did spend all day on the trails with some challengers in a vehicle that is clearly marked with The 4×4 Podcast brand but that wasn't quite the same as having people milling through a vendor setup at base camp.
Recommendation – If the event were to run from a Tuesday – Saturday, that would allow people who took off a week from work anyways, to have a day to drive home recover (because Lord knows we all needed to recover from an event of this magnitude) before heading back to the doldrums of work on Monday.  This would also allow people to stay the night on Saturday night for the dinner and awards ceremony instead of having to immediately leave the event.  Sunday could be spent more as a social event and vendor fair.  This would certainly draw more vendors because they would get more bang for the buck.
Issue – Navigation Challenges
Discussion – Navigation during the event was done using an app called Avenza PDF Maps.  This allowed the organizer to use the town maps that are in PDF format and geo-tagged versus requiring everyone to purchase additional topo maps or another type.  This arrangement made navigating the routes extremely easy….too easy.  I was able to navigate right into camp well after midnight, in the rain on Friday night with ease.  While this certainly demonstrated to VOT challengers that navigating the backroads of Vermont is extremely easy and encourages people to come back for future trips.
Recommendation – The use of Avenza PDF Maps for the routes should remain as the primary means of navigation.  It would have been nice to actually have a GPX file to download and manipulate for use in other devices or apps.  The addition of a navigation challenge would also be very welcomed.  Something like a poker run where teams can earn extra Team Spirit points for navigating to a pre-determined grid location without the aid of Avenza PDF would provide a great challenge.
Sustains:
Issue – Shotgun start to each day
Discussion – The first two days were started on a schedule.  On days 3 and 4, teams were allowed to leave camp at the leisure between 8 and 10.  This afforded teams to head out early and tackle the challenges free of traffic if they wanted.  It also allowed teams to sleep in after a long night of partying with their new found overlanding buddies.  This technique also allowed teams time to make repairs during daylight after a nights rest.
Recommendation – Continue to start each day's event at each team's leisure vice an established start time.  The timed starts were designed to avoid trail jams but those jams were a result of multiple attempts at the challenge trails.  As previously discussed, that was a great time to get out and mingle with some teams that you may have not had the opportunity to interact with otherwise.
Issue – Camaraderie
Discussion – I don't have much to say here other than this was a fantastic group to be around.  Everyone was in good spirits and only once did I hear a bit of snarkiness in someone's voice and that was over who was going to be spotting in a tough section…not uncommon in any group.  But there was such high spirits throughout the event that it was contagious.  People were describing the horrors of the trails with smiles on their faces.  Brand loyalty was extremely high but there was not Jeep-on-Rover (or any other brand-on-brand) violence or harsh words at any time.  While it was mentioned that driving a Jeep during the Vermont Overland Trophy was like "pushing the easy button," everyone was challenged and emerged victorious.
Recommendation – Continue to bill this as a challenge more than a competition.  This will focus people on how the prep themselves, work as a team and tackle the obstacles.  More awards would also welcome some additional effort from people.  Since there was a "Best Camp" award, there could also be a "Most Spartan" award where the overlander that endures the harshest living conditions would be recognized.
The Vermont Overland Trophy was the very best offroading event that I in which I have participated; hands down.  If you have the opportunity to participate, DO IT!  If you don't easily have the opportunity to participate; move heaven and earth to be there!  If you can't make it next year, then request time off work now for the year after because this event is NOT TO BE MISSED!
Be sure to follow Bryon Dorr from Exploring Elements on Facebook, Twitter and Instagram for more cool Vermont Overland Trophy news and pictures.  Bryon also attended the 2012 Northwest Overland Rally and Workshop and the Northeast Overland Rally and Workshop.