Podcast: Play in new window | Download | Embed
Audio clip: Adobe Flash Player (version 9 or above) is required to play this audio clip. Download the latest version here. You also need to have JavaScript enabled in your browser.
On episode 92, Dan speaks with Leo, the inventor of the Campfire in a Can!  Leo is a very innovated thinker that has designed an extremely versitile product that will certainly increase your enjoyment while out camping.  At the end of a long day on the trail, you can use the Campfire in a Can to transition to relaxing mode very fast.  I can't wait to get mine and start putting it to use!  I highly recommend that you back this project on Kickstarter and get about $90 off using this introductory pricing.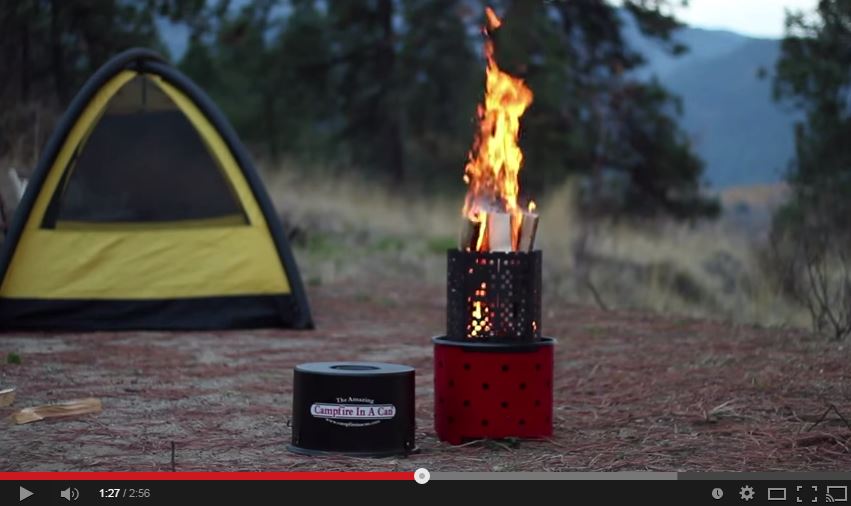 From Campfireinacan.com
Whether you're in your backyard, at the campground, or anywhere in between, The Amazing Campfire In A Can is the easiest, most convenient way to enjoy a campfire! Featuring a compact, self contained design that makes it simple to transport and store, Campfire In A Can is also the world's first portable multi fuel campfire! Capable of burning wood, charcoal, or propane (using the optional propane kit), Campfire In A Can's versatility and performance is unmatched by any other portable campfire on the market.
Everything Is In The Can
We've designed the Campfire In A Can to house everything right inside the canister. No more hunting around for little parts and pieces…just grab it and go! It's as simple as that. Our design makes it easy to keep everything together and makes storage, whether on the road or at home, a snap.
Multiple Fuel Options
Having the option to burn wood, charcoal, or propane (using the optional propane kit) gives the Campfire In A Can an incredible level of versatility. Is your campsite's fire pit in a bad spot? No problem! Set up the Campfire In A Can wherever you want and enjoy a crackling wood fire! Feel like grilling up some hot dogs at the beach? Add some charcoal, snap on the cooking grill and fire away! Sudden fire bans are no longer an issue either. Just pop in the optional propane kit and, while everyone else sits in the dark, you'll be the envy of the campground as you enjoy a blazing propane fire!
Take It Anywhere!
Many campsites and beaches have restrictions on open, uncontained fires and require you to use raised fire pits. Well, Campfire In A Can solves that too! Our design is actually classified as a contained fire. Plus, if you use the supplied stand to elevate it off the ground, you'll also be in compliance with the raised fire pits only rule. We thought of everything!