Podcast: Play in new window | Download | Embed
Its that time of year again where we bring out a nice long list of offroading related gear that me, Derek and you the listeners would like to give or receive for Christmas!  And as a bonus, one lucky listener will receive a 2013 calendar from Poison Spyder!  As usual, the list is broken down into categories to fit your budget.  Some of the link in this list are affiliate links so that if you decide to make a purchase you will be supporting The 4×4 Podcast!  So lets get started!
To stream the audio for the show, you can click on the play button right here!
Audio clip: Adobe Flash Player (version 9 or above) is required to play this audio clip. Download the latest version here. You also need to have JavaScript enabled in your browser.
Check out The 4×4 Podcast on G+ or any other social networks using the links below. Also, you can support us by using any of the affiliate links found in the affiliates section. Contact us with your voicemail feedback at: 719-924-5337, the4x4podcast@yahoo.com, on Twitter, Facebook or Google +
FREE - $25
Fun Treks Guide Books- $24

The 100 trails in this book may be the best batch ever put together in one place. Whether you are a newcomer to 4-wheeling or an experienced veteran, we guarantee you''ll have fun. The trails are grouped into seven key areas in the heart of Colorado''s most beautiful high country. Most are convenient to Denver and the Front Range.

A full-color format makes planning your next adventure simpler than ever. Easy, moderate and difficult routes are color coded, while symbols quickly show kinds of vehicles allowed on each trail. This includes unlicensed UTVs, ATVs and dirt bikes.

Offroad Nation game for iOS and Android
ARB Strap Wrap- $6.38

Manufactured from 50mm wide polyester webbing, the ARB Strap Wrap solves the problem of recovery straps becoming unravelled either whilst being carried or when in storage.

NEBO Blueline Tactical Flashlight- $19.99

The BLUELINE® combines all of the features already proven to be customer favorites in one affordable flashlight. Super bright…adjustable focus…and strobe…and the new twist is the blue ring that flashes a cool blue light when you need it. The BLUELINE is not too small and not too big and so easy to handle that you want to keep it on you all of the time.

NEBO CSI EDGE Flashlight - $9.99

The CSI EDGE™ 50 is a compact high-intensity tactical flashlight. Constructed of anodized aircraft grade aluminum, the EDGE™ emits 50 lumens with 1 powerful LED. The water-resistant body design also features a steel clip to keep this flashlight handy, or gives you the ability to use as a cap-light for convenient hands-free lighting. The glow-in-the-dark button is positioned in the back so that you can keep constant control of the flashlight while activating the button. Small enough to fit in the palm of your hand, the EDGE™ shows off its tough side with the aggressive self-defense face. CSI EDGE™…Small never looked so mean!
Torque for Android- $4.95

Measure BHP, Torque & 0-60.  Clear car OBD faults.  View engine data in Google Earth.  See what your car is doing in realtime, get OBD fault codes, car performance, sensor data and more!  Torque is a vehicle / car performance / diagnostics tool and scanner that uses an OBD II Bluetooth adapter to connect to your OBD2 engine management / ECU.  Layout your own dashboard with the widgets / gauges you want!  It can use the GPS to provide tracker logs with OBD engine logging so you can see what you were doing at any point in time.  It can also show and reset a DTC / CEL / fault code like a scantool. Helps you fix your car and helps keep repair costs down!

Univeral Rocker Swiches -  $22

These high quality 12 volt Rocker switches are a single throw ON - OFF switch designed to operate your 12 volt accessories.
$26-$50
Adjustable Tire Deflator Kit by Rugged Ridge - $34

Fully inflated tires are great for the road and gas mileage, but they deliver a washboard ride on the trail. Air down your tires for a softer ride and more tread grip. Rugged Ridge offers two great kits to fit your lifestyle and budget. Made from 100% brass and are fully adjustable in 3psi. increments. Once you find your desired setting you can lock the deflators where they bleed to the same tire pressure each and every time they are installed. So, you can deflate your tires quickly and accurately every time you head out on the trail
Surprise Straps - $44.00

Blue Ridge Seat Back Panel and Pouches- $35.99 and less

Backseat drivers are a pain in the butt, but sometimes you just can't avoid it. If you're like me and have three kids, you've trained them pretty well to keep themselves occupied while you are navigating through complicated terrain.  "Don't mind the 300ft drop outside your window, hunny. Yes, I know where I'm going. No, we're not going to die. Please just keep reading your book."  So now you have to keep your backseat drivers/riders occupied with fun things to do….and nowhere to put them. That's where our world famous Molle Seat-Back Panel comes in. You hang this bad boy on the back of your seat and it serves as a sturdy anchor (and seat protector) for small, medium, and large MOLLE compatible bags that can hold all your little heart desires. Things like: chewing gum, duct tape, a game boy, a fire starter, noise makers, word search books, maps. All things that good kids love to play with. Now you can be prepared AND organized. Pouches not included. MADE RIGHT HERE IN VIRGINIA USA
Muff Pot Cooker- $41.95

The muff pot clamps onto your exhaust pipe and will cook your food while you drive!  Nothing quite like engine-heat cuisine!
$51-$200
GearShade JK Pocket Top - $99.95
GearShade is a one piece sun shade top designed to cover both front and rear passenger compartments of your Jeep Wrangler. No drilling or header is required with any GearShade top. Each GearShade top comes with 2 pockets for easy storage and access for both the driver and passenger.  Each GearShade Pocket Top is made to withstand the most rugged abuse. The mesh material is made from woven PVC coated 1000 Denier Polyester. The top of the pocket is made from water resistant 1000 Denier Cordura, with a Polyurethane coating.  Installs in minutes without tools or drilling. Attachment bungee cords and instructions are provided.
2 Ton Floor Jack - $129.99
$201-$500


Axial SCX10 Jeep Wrangler Rubicon Unlimited RC - $379.99
Belly Up Skid Plate – $473.99


ARB Twin Air Compressor – $495


$501-$1000

 Rough Country Long Arm Upgrade – $649.95


ARB 50 QT Fridge/Freezer – $799

$1001-$5000

 Rigid Industries LED 40″ M-Series Light Bar

Rigid LED Lighting is the industry leader and originator of the most efficient LED lighting solutions available. LED Lighting provides high lumen output without high power draw giving you an efficient alternative to traditional HID & Halogen lamps. They are also more durable and stay cooler than traditional HID & Halogen lighting. Available in a wide variety of sizes and configurations, for a variety of vehicles, for any night time driving situation, you can bet Rigid has a LED Light for you.
Corbeau Seats – $448.99 each plus brackets
I've had Corbeau seats in my XJ for over 5 years and they are amazing!  They provide tons of support which inspires confidence while on the trails and reduces fatigue on long drives.  Excellent build quality ensures years of reliability.
Vehicle Lift System– $2,379.95
Dannmar Brigadier 10AC lifts offer versatility for your workshop or garage. Engineered for strength, these high performance, two-post lifts fit neatly into most service bays and allow greater access in and out of the vehicle. Built with posts that are rotated inward 30 degrees, Brigadier 10AC lifts are asymmetrical models permitting vehicles to be off-set back farther. Able to handle 10,000 lbs., these 2-post lifts offer dual hydraulic cylinders with a "direct-drive" lifting system, heavy-duty lift arms with automatic safety restraints, oversized column base plates, safety locks in each column and maintenance-free polyethylene load bearings. Brigadier 10AC with its rugged design and easy to use controls will provide reliable one-the-job service that will give your workload a boost. Plus, these lifts include an eight-piece truck and van adapter set! Work comfortably, efficiently and safely with Dannmar Brigadier 10AC two-post lifts.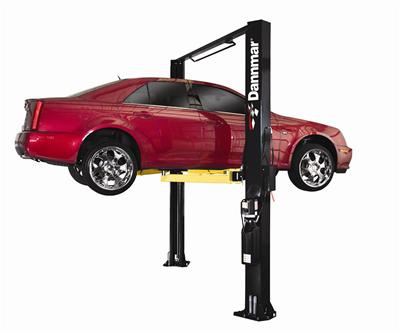 $5001-skies the limit
Tube Shark Tube Bender and Notcher– $7,280
The Shark Pool works great in the shop or on the road…anywhere you need the complete TubeShark® system. Get the most from these precision machines, while keeping die sets, tools and accessories organized.
 Ford Raptor SVT – starting at $43,340

I had the priveledge of spending some time in a Ford Raptor while down in Mexico for the SCORE Baja 1000.  We used the Raptor as a chase truck and prerunner and it was awesome! Ford has this truck dialed in nicely for driving around town daily and is still a blast to drive out in the rough stuff.  The aftermarket support for the truck is also very strong which means you can modify the truck as much as your budget will allow.  While it won't be in my budget anytime soon, I can always dream, right?!