Alaska's northern latitude results in some very dark days and nights. It's also very easy to get into remote areas where things just seem darker. LED light bars and other types of auxillary lights are very popular. These lights are also frequently destroyed by the extreme cold, gravel, and rocks.  The abundance of snow also makes the LED light color hard on the eyes.  The LEDs, typically do not put off enough heat to keep the snow and ice melted off the front of the lights.  AuxBeam provided me their 22" cross-series light bar to review.  I was a little apprehensive because I know how harsh the conditions are and I did not expect much.  I recently completed a round trip from Fairbanks to Anchorage through dark and snowy conditions which really left me wanting more light.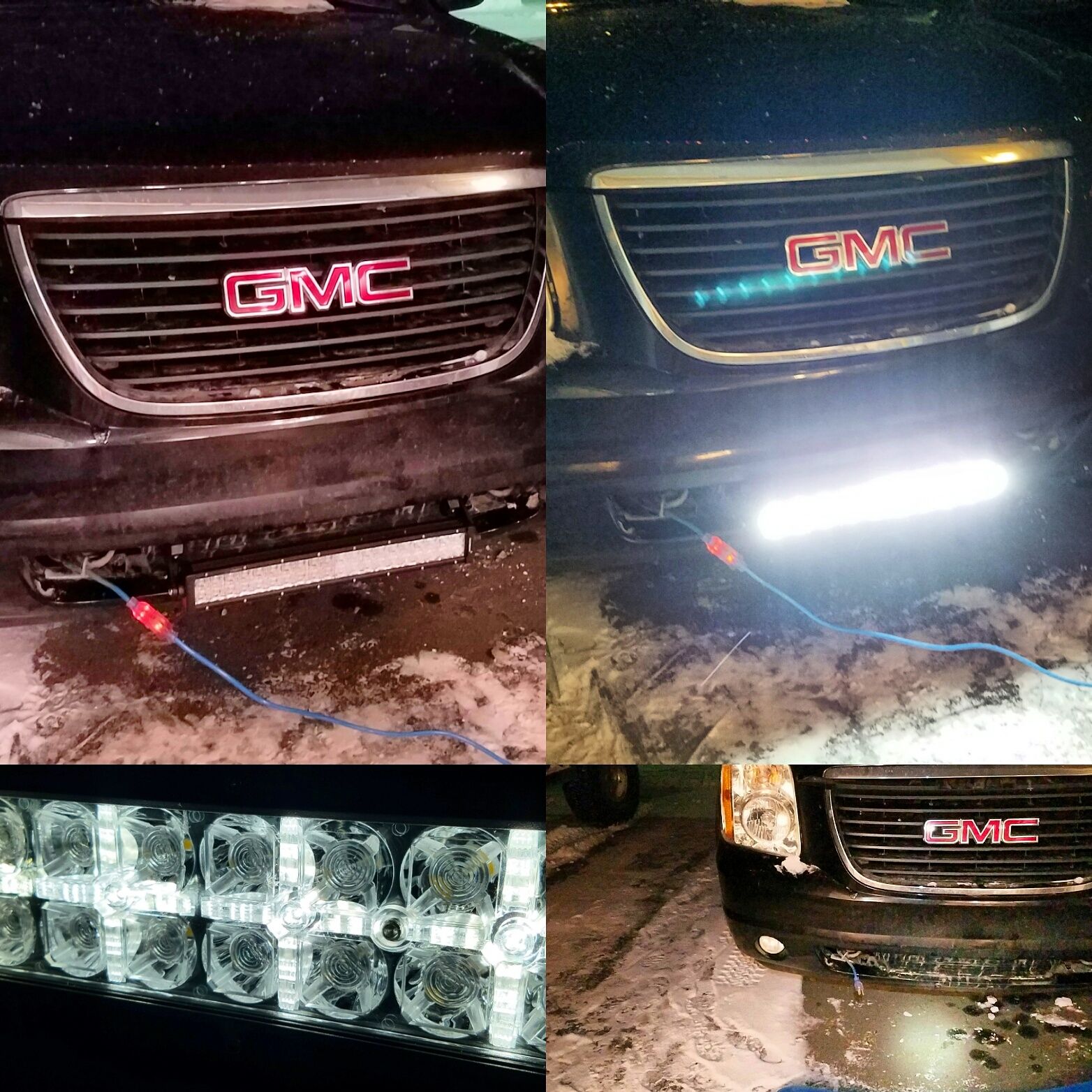 I installed the light bar on the lower portion of the bumper on my 2007 GMC Yukon XL. The included bracket, wiring harness, and switch made installation quick and simple.  The wiring harness did not have the necessary connectors between the light bar itself and the wiring harness to make it a simple plug-and-play install though.  I used some connectors that I had left over from a previous install that I had completed which made it easy to run the wiring harness, install the bracket, and position the light.  The entire installation process still took me less than one hour, even with the -5 degree temperature outside.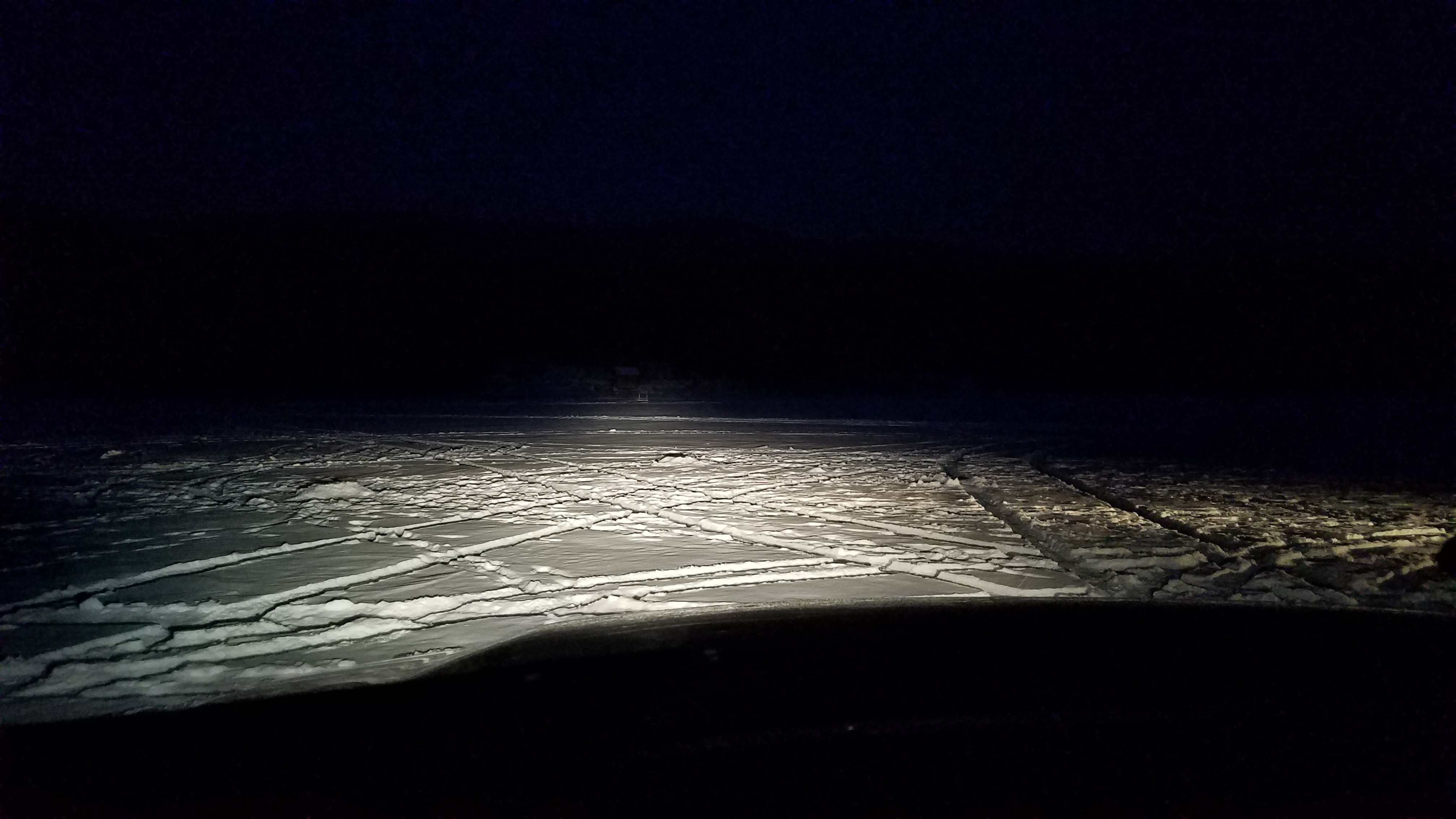 The next morning I hit the road long before sun up for an ice fishing excursion.  The light performed really well providing a huge shower of light long down the road.  I did not notice any clear beam pattern but the light sure spreads out everywhere, which is what I needed.  The light also throws out far past the reach of my high beams, even with upgraded halogen bulbs.  The bulbs have run for a total off about 3 hours so far and there is no noticeable signs of wear despite the various gravel showers from the road.  There also has been no sign of condensation build up inside the lens, like many inexpensive light bars suffer.  The light bar has two modes – daytime running light mode where it lights up but does not project light and night driving mode where it projects loads of light.  The lower bumper mounting position did a great job of really highlighting the inconsistencies of the road surface.We will see how the lights fair after some longer term exposure to these harsh Alaskan conditions.
Overall, I found the AuxBeam cross-series LED light bar to be a great bargain and performed very well.  If you're 9looking for an inexpensive light bar to improve backcountry and trail visibility, then I recommend you pick up some AuxBeam lights for your rig.
Pros:  value for the price; quick install by someone with 12v electronics experience; included hardware has security features to deter theft; light greatly improved nighttime visibility
Cons:  light bar and wiring harness lacked matching plugs; switch felt cheaply built; there were no installation instructions; light color is a tad harsh on the eyes in winter conditions – could use amber lens covers.
*** Update *** 4 March 2017 ***
I've been using this light bar for over two months. It gets used daily since Alaska experiences a great deal of darkness this time of year and I have good things to report. The lens has zero signs of moisture inside!  This was my biggest worry but so far we're looking good. Also, the lense has held up well to being blasted by road debris. Overall, I am very comfortable giving this light bar my recommendation to buy if you're looking for a light bar for a great deal.