On 30 January 2015, Poison Spyder Customs announced that they had been acquired by Transamerica Wholesale.  Transamerica Wholesale is already the parent company for many other offroading brands that you are likely to be familiar with such as Rubicon Express, ProComp, 4Wheel Parts, 4WD Hardware, and Smittybilt.  The CEO for Transamerica, Greg Adler, is an offroad fanatic who even races in a Pro-4 short course truck.  Here's what Cheri McRae said about the acquisition:  
"We've been keeping a secret for a little while, but it's now official. Poison Spyder has been sold to TransAmerican Wholesale. We are proud to have built this brand into something that Trans would like to see as their premiere label. Larry will remain the President and all our employees stay in place continuing the great job that they do. With the support we'll gain the sky is the limit on how we will continue to grow. American dreams do come true, I know because we have been living it!'
Based on this, I think we'll still see the same top notch quality work coming from Poison Spyder Customs as we saw before the acquisition.  What I hope we don't lose is the friendliness and continual innovation that we've all come to love.  One thing is for sure, the corporate power and logistics network from Transamerica will give Poison Spyder Customs a huge boost and will allow the parts to become more accessible to more people.
How do you think the acquisition will impact Poison Spyder Customs?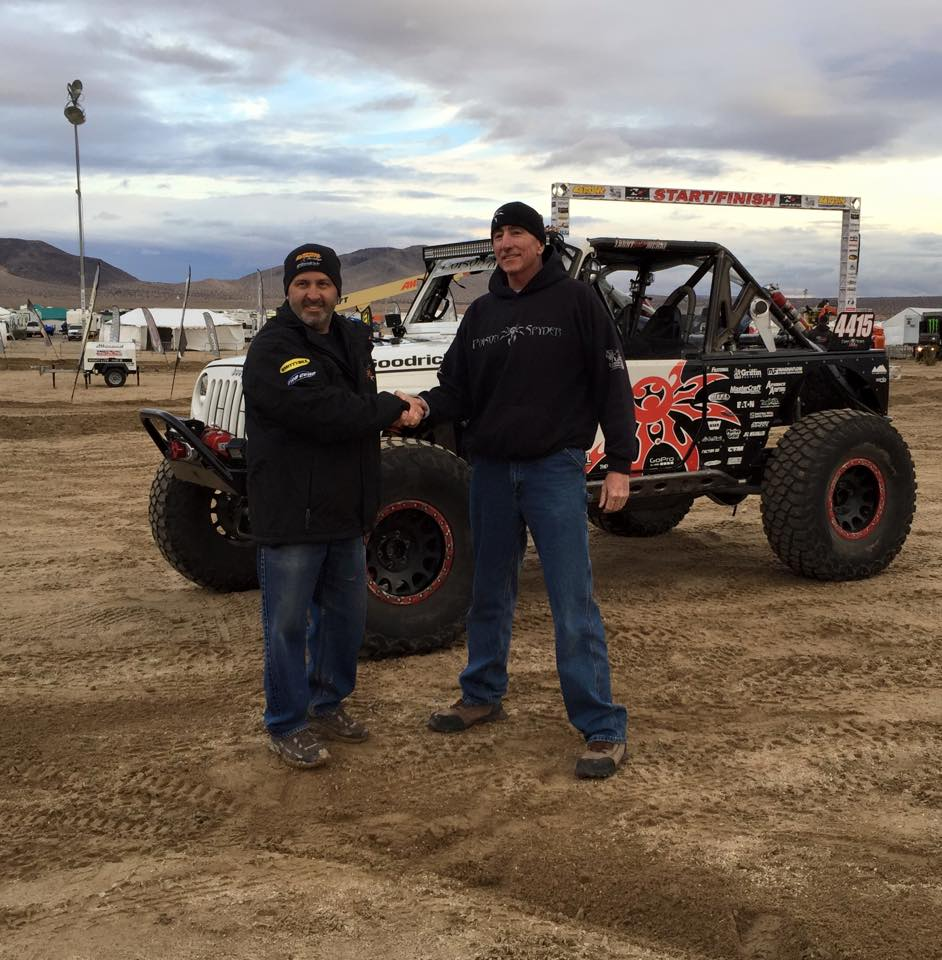 Photo credit to Cheri McRae on Facebook
About Transamerica Wholesale from their site:
"We are the leading distributor in the light truck, four wheel drive, SUV, and Jeep aftermarket. Founded in 1961 as a division of Transamerican Auto Parts, we have expanded from our original single location to 6 National Distribution Centers and 14 cross-dock locations across the United States. We operate over 60 trucks providing next day delivery to customers near our facilities and partnered with the best carriers in the business to serve the entire nation. We are the only true Global shipper of Aftermarket Accessories in the industry.  We have 6 sales office staffed with professionals that speak truck. Our personnel are not trained to "sell" you product so much as they are trained to help you sell the product. We know when you do well, we do well"
About Poison Spyder Customs from their site:
Larry McRae is a lifelong wheeler. His love for dirt began as a child, when he and his father took their family Bronco out to explore the deserts and mountains of the southwest. From the first time his father let him take the wheel of that Bronco he was hooked and his passion has only grown since.
From pre-runners to rock crawlers, Larry has always owned an off road vehicle of some sort, even before he could legally drive on the street. The one similarity in all the rigs; they were all modified. Larry even modified a 3 wheeled golf cart for off road when he was 12.
Larry's desire to wheel with his buddies led him to help form a 4 wheel drive club while still in high school. Larry and his wife Cheri are long time members of the Inland Empire 4 Wheel Drive Club. Larry is currently club Historian and Past President and Cheri is forum moderator and past treasurer. They've also had the honor of being the club's Trail Boss Of The Year and Four Wheeling Family Of The Year.
4 wheeling has become a way of life for the McRae's. This lifestyle has introduced them to many great people. It's also been full of adventures and opportunities, from attending a couple of years on Petersons 4-Wheel and Off-Road's Ultimate Adventures to professional rock crawling. 4 Wheeling has taken them to nearly a dozen states and 3 countries and has allowed them to see beautiful places that most non-wheelers wouldn't even know exist.
Larry and Cheri met in 1992 and as they say, "It was love at first sight." But when Larry found out Cheri loved wheeling, he knew she was the one for him. While dating, many of their weekends were spent exploring the mountains in Southern California. It's not much different today other than their explorations have expanded beyond So Cal. Larry's daughter Cortney was raised on camping and wheeling with their extended 4 wheeling family. Her first vehicle was a 4 wheel drive Toyota Tacoma and she hopes to purchase her own Jeep in the near future. Cortney is working on a business degree at the University of Redlands and will manage the office and accounting at Poison Spyder Customs.
It was during the Ultimate Adventure in the Pacific Northwest that Larry and Jon Bundrant from All Pro Off-Road became friends. The two shared similar driving styles and passion for rock crawling. It was this combination that lead Jon and Larry to be hired in 2002 by Nelson & Nelson Racing to compete nationwide in the compact rig called "Tiny". Larry & Jon along with innovator in motorsports engineering, Jon Nelson still hold the rock crawling record for the most wins in one season (11) and the most series championships in one season (4). That same season they also won the Put Up Or Shut Up Championship and the Super Crawl Championship.
The Southwest states Ultimate Adventure is where the McRae's met Clifton Slay. This friendship eventually led to the McRae's purchase of Poison Spyder Customs. The Slays were insistent that the new caretakers of Poison Spyder Customs were fellow hardcore wheelers that shared a similar vision for the future of Poison Spyder, not a marketing company that would eventually dilute the brand. The McRae's, like the Slay's, live within and contribute to the Off Road Nation, rather than living on and taking from it.
What many of Larry's close friends know, is that Larry strives for excellence and thrives on competition. Whether on the trail with a group of buddies, or in his many successful business ventures, Larry enjoys a challenge and has a real thirst for learning new things. On a personal level, Larry is a loyal and trusted friend and endeavors to earn the respect of his peers.
Their undeniable urge to improve their rigs, their passion for the adventures of wheeling, their love for the people in the off road community, their competitive spirit, their many years as a successful business owners and most importantly their supportive family and friends have prepared them for the position of caretakers of Poison Spyder Customs."