I've heard many great things about the Goal Zero solar panels and power kits but I just couldn't find a use case where I would really need solar power; that is, until I found myself spending a couple months living in the Mojave Desert. My military duties bring me to many austere environments but not very often am I without power. However, "not very often" does not equal "never." Anyone who has ever been on a long adventure can tell you that things don't always go as planned, so plan for the worst case scenario.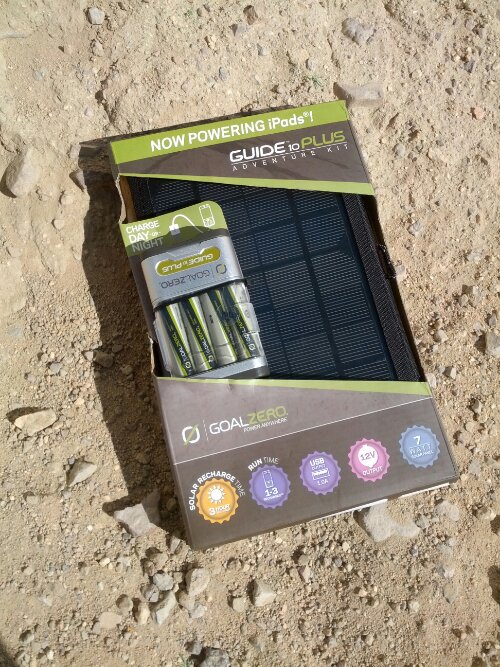 This morning I woke up to a dark and stinking hot tent. The power had gone out some time during the night and my cell phone had drained itself completely. I dropped in my spare battery (Android for the win!) and moved out knowing that I eventually if I didn't find power, I was going to be without a working phone.
My day had the potential to contain many long hours in the sun. I stopped in at the nearby store and picked up their very last Goal Zero kit and put it right to work. Despite my first inclination to tear open the box and plug stuff in, I took the time to read the enclosed documentation. Operating the charger is straight forward and simple. My first priority was charging up my spare (now totally drained) cell phone battery. I connected my cell phone battery to the solar panel using a micro USB cable and tucked the battery into the little mesh pouch on the back of the panels. The pouch provides a location for your gear so it's not it in direct sunlight to melt into a puddle of expensive electronics. A short second after opening up the panels the charging light on my charger turned red, indicating that I was now turning the relentless Mojave Desert sunshine into grid free power!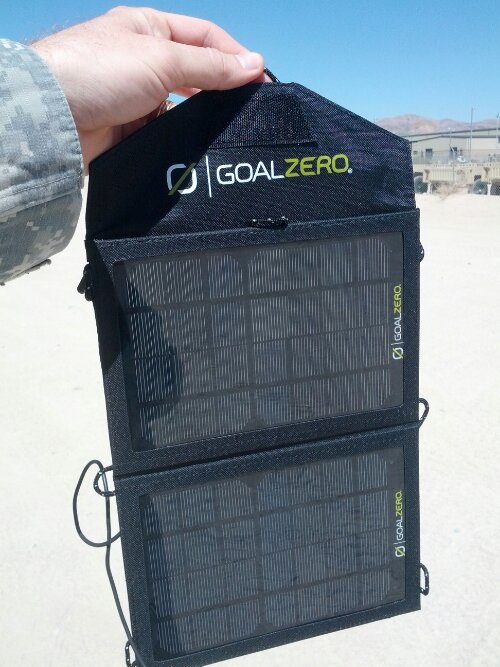 The 1850 mAh battery for my Samsung Galaxy Nexus phone charged in less than 2 hours. Once that was done, the next task was to charge up the battery pack that came with the kit. The battery pack can be charged through USB from the solar panel or an auto charger. In keeping with the zero consumption theme I opted for the solar panel power. There is a supplied USB cable for charging but I read in the documentation that USB charging can take up to 8 hours. Instead, I used the other supplied charging cable, the solar panels charged the pack in 2.5 hours.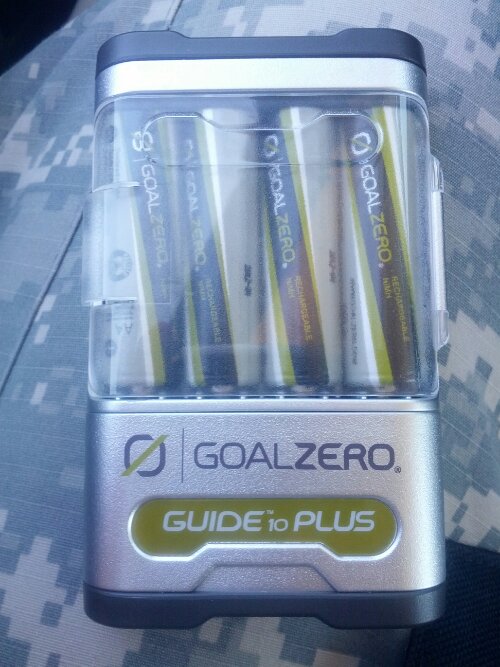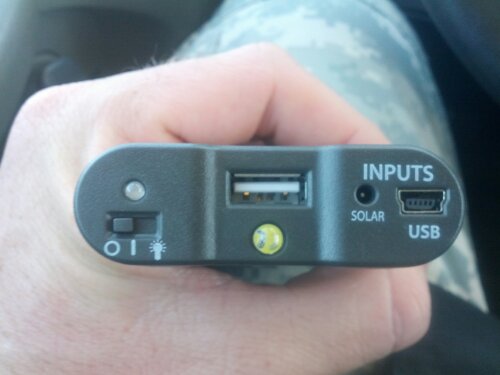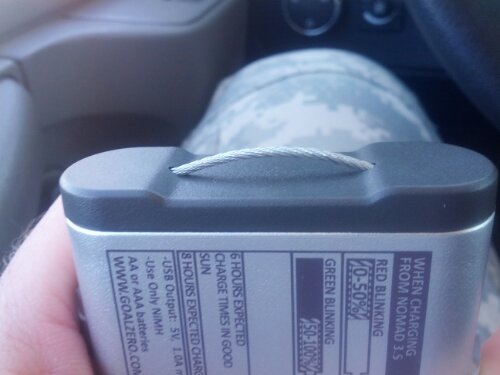 By that time the battery in my phone was down to 85%. This would be the real test: can the Goal Zero panels provide a stream of power stay enough to charge directly to my phone? Yes, but with caveats. There is now doubt that modern smart phones are seriously power thirsty devices. Android phones seem to be especially thirsty gadgets! My observation was that the device was charging at a rate just faster than it was discharging when in a steady state. In a high use scenario, the battery level would probably continue to decrease despite having a charge introduced. All things considered though, stopping or slowing the discharge rate using a completely renewable source is a total win!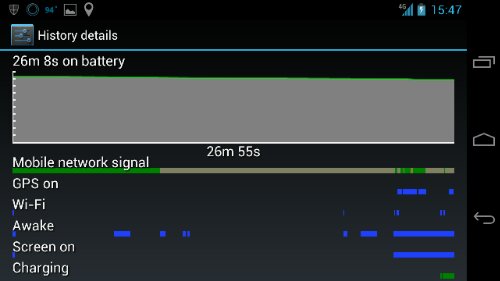 The last thing I'll mention is the workmanship. There are numerous loops on the edges of the solar panel to make it easier to hang in direct sunlight. I found it was easy to hang on my Camelbak using a few S-shaped carabiners but the way they attach to the unit concerns me. I felt around the edges and seams and it felt like the loops were single stitched. Load bearing loops should be double stitched at a minimum. I'll be sending this note to Goal Zero and hopefully they can address this in future iterations of the product. It's also rain and snow resistant, but not waterproof – I'm in the desert so I haven't yet tested this but I will soon be back in snowy northern New York.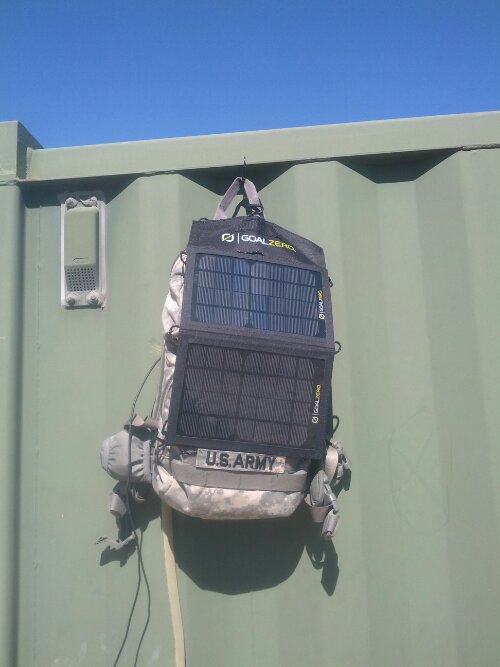 I've now had the kit for a few days and I've tried to make use of all the available charging scenarios. My day often begins before the sun which would pose a problem for solar power. The good news is that the supplied battery pack does an excellent job of providing a steady charge to USB powered devices. I would recommend that if you are going to be charging a phone or tablet, you should use the battery pack. That smooth and consistent power supply will be better for your device and will charge up faster.
Overall, the Goal Zero Nomad 10 Plus is an outstanding product. If you are traveling in a vehicle that has a dual battery system and you will always be around your vehicle, then you may not have a need for this Goal Zero kit. However, they do have larger kits designed for all your overland travel power needs. If you are going to be in the back country for an extended time and don't want to carry a bunch of batteries, then this kit is for you!
If like to pick up your own Adventure Kit and support The 4×4 Podcast at the same time just follow the link below.