With my wife having just given birth, I am attempting to be a good husband and try out some new dishes at the same time.  A while back I discovered a recipe on Expedition Portal called The Breakfast Bomb (http://www.expeditionportal.com/forum/showthread.php?t=101129) and I've been itching to try it out.  So I planned things out and picked up all the ingredients for a Sunday brunch.  While the house was still asleep, I headed down to the kitchen for coffee and solo dutch oven experimentation.  The ingredients are simple and durable enough to travel well which makes it a good choice for a back country meal.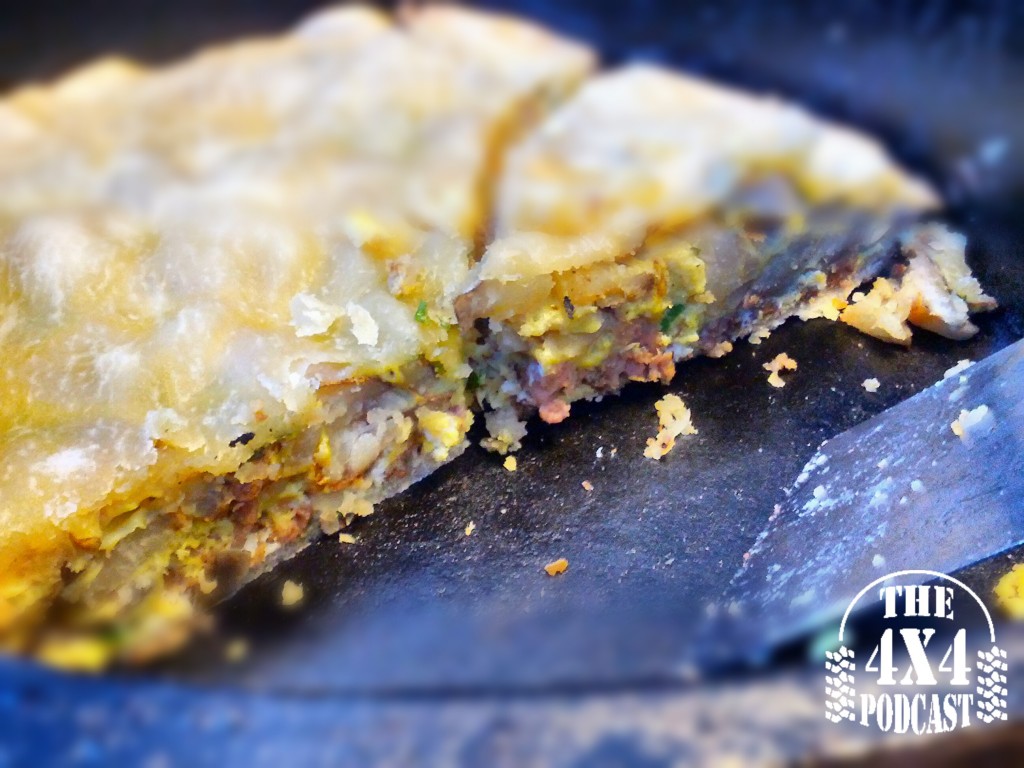 Feeds 8 hungry adventurers.  Prep time:  1 hour.  Approximate cost:  $7.
Ingredients
10 eggs
Ready made pie crust
1 lb sausage
3 potatoes
1 onion
Green onions
Cilantro
Cheese
Spices
Directions
Cook the sausage in a skillet and set aside in a bowl once cooked.  While the sausage is cooking, chop the potatoes.  Once the sausage is set aside, toss the potatoes into the skillet.  Add chopped onion to the potatoes and cover with the dutch oven lid to soften the veggies.  Feel free to add whatever veggies to this recipe you like, but know that they will probably not fully cook while the bomb is cooking together; it's a good idea to cook them before adding to the mix.  Spread one pie crust in the bottom of the dutch oven, pour eggs in, spread potatoes and veggies in the eggs, add cheese and then the top pie crust.
Cook at 350°for 30 minutes or until the eggs are cooked.  I cooked this at home this time but in the field that would look more like 6-8 coals on the bottom and 12-15 on top.