Podcast: Play in new window | Download | Embed
Audio clip: Adobe Flash Player (version 9 or above) is required to play this audio clip. Download the latest version here. You also need to have JavaScript enabled in your browser.
On this episode of the podcast we bring you an interview with Jason from Mountain State Overland.  Mountain State Overland is headquartered out of Virginia and they mainly explore in the Appalachian Mountains of the eastern United States.  Mountain State Overland is very different than most other offroading outfits that you may find on the internet and around the world.  Their core principles are to do good for the environment and take care of what exists in nature for us.  Preservation is critical to everything that Mountain State Overland does.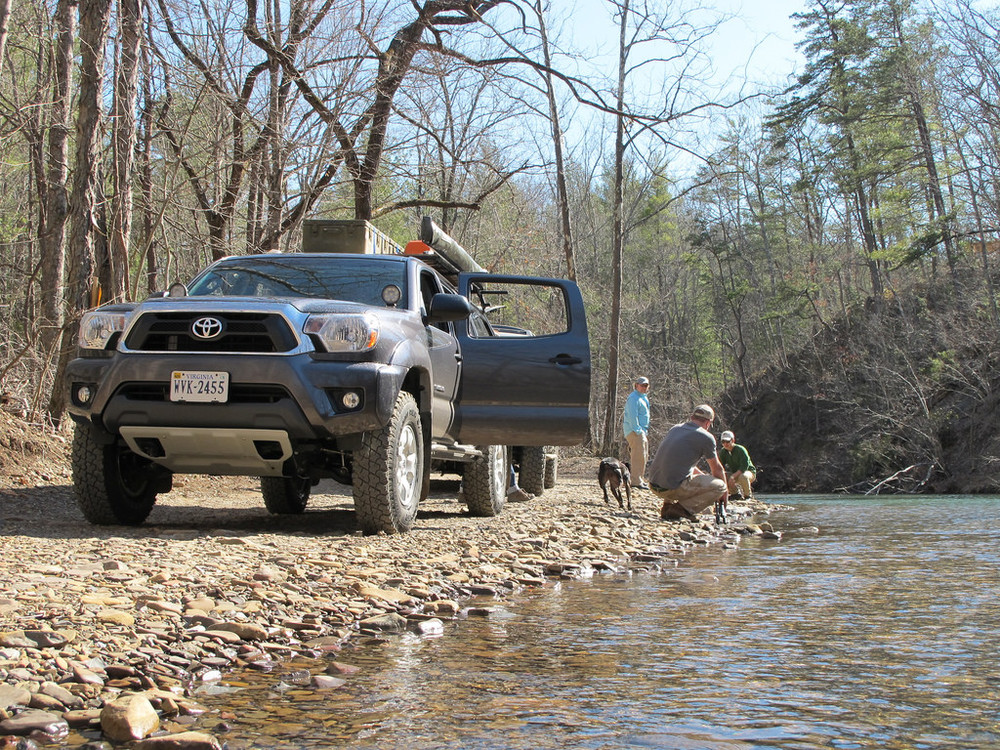 This interview was done just as Jason and the team were wrapping up season one of the web video series.  There are many ways that you can get in touch with them and also contribute to their efforts.  Hopefully you are inspired by the work that Mountain State Overland is doing in their area and you can work to develop similar practices in your own neck of the woods.

If you like what you see, be sure to subscribe to their YouTube channel and you'll get all the episodes and any updates between episodes.
Interview with Mountain State Overland
Feedback
Craig reads
Nicky G.
Hi, I was turned on to your podcast by the guys at xjtalk.com. I enjoy listening in and find it very informative. I really like the recipes. The one thing I enjoy as much as listening guys talk about jeeps is listening to anybody talk about food. Keep up the good work.
Nicky G
Sent using my waffle iron
____________________________________________________
Dan Reads
Hey guys I'm Chris and I wanted to send an email to say that I started listening to the show a couple weeks ago and I'm enjoying being able to get a 4×4 fix when I'm not able to be wheeling, camping or wrenching. I actually discovered your show through instagram surprisingly. I am 25 and I've been off-roading and camping since I was about 10. I have a ford ranger that isn't much of a ford ranger anymore, but I still appreciate 4×4 talk even if its about jeeps.
One question that I have that you could possibly use for some discussion on the show is about roof top tents. What is the appeal of a RTT?! I have been trying to wrap my mind around it for quite some time. I just don't understand why anyone would pay $1000 all the way up to $3000 for a tent! Not only is the price outrageous to me but their principle of use is also. I understand the desire for a rapid setup, but they make traditional ground tents that setup quickly as well. The weight of one is immensely more than a traditional tent. Also I can see some would argue that being off the ground is better, but doesn't that make you lose a lot of the insulation that the ground actually provides, and having to climb a ladder would make it difficult for those who camp with dogs? Not only that but if you affix it your vehicle, you have to break camp if you want to drive, and it raises the center of gravity and roof clearance height. If it is on a trailer, why not spend your money you invested into the tent get a pop up trailer or camper? Also the trailer has to be designed for the RTT so you can access the rest of the gear the trailer is hauling. It just perplexes me that these tents are getting so popular and it seems many people believe they NEED one. Could you please shed some light on something I'm missing here?
Anyway guys, thanks for putting out a good 4×4 talk show, I am really enjoying it!
Chris G.
Outdoor Edibles
30 seconds to camp – Orange Chicken
1 lb Chicken Breast, diced in to ½ inch cubes
1.5 oz Canned Chipotle chilies in adobo sauce
Juice of 3 Oranges
½ tsp Orange zest
½ cup Cilantro, chopped
Salt and Pepper to taste
Served with fresh homemade tomato salsa and Jack Cheese
and of course Blue Moon Beer
http://instagram.com/p/qqDwfAKZSZ/
http://www.30secondstocamp.com